The fastest way to book a private jet.
Immediate price quote.
Immediate booking.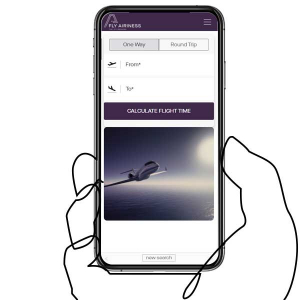 Download App
now
and
save 5%
on your next flight
with
discount code
We find the best option from
all available private jets on the market
But sometimes it just has to be faster and easier: an urgent meeting has been scheduled in London or you have to get back home as quickly as possible for private reasons. For these and many other cases the app innovation from Fly Airiness enables you to book flights with a private jet directly on your mobile phone. The best things is: You will get an immediate price quote. Without time-consuming inquiries. Without approximate pricings.
You simply enter the place of departure and destination, date etc. and you will immediately receive an offer with a fixed price that you can book immediately. Quite simply and in a matter of seconds – without having to send a tedious inquiry and wait for an answer, without annoying cell phone calls with an endless waiting loop.
At the moment this service is available for the medium haul category within Europe for up to eight passengers. In the next few weeks, however, all categories will be available within Europe and, in a further step, worldwide.